By
Rehna
on December 31st, 2012
Congratulations, you finally have a place you can call your own! Moving into your own apartment is a huge deal, but all that excitement can quickly give way as soon as you move in a realize none of the things you own are things you actually need. So before you spend all week running to the store to purchase things you never would've thought of until you needed them, we've made you a list of stuff to bring along on moving day.
1.) Cleaning supplies. There are few things more frustrating than having a mess you can't clean up immediately (we think sitting on the toilet with no toilet paper would probably rank up there as well). This includes a few basics like paper towels, a scrubber, an all-purpose spray cleaner, dish cleaner and some garbage bags as well as any laundry related supplies, like washer liquid and dryer sheets.
2.) Serving utensils. Pots and pans might be nice, but if you have no plates or silverware you're not going to get very far. Paper plates and cups and plastic utensils still count, so if you can't afford your own hardware right now make sure you have plenty of the temporary stuff. Oh and don't forget about a couple good, sharp knives. It doesn't take long before trying to cut a pork-chop with a butter knife really starts to get on your nerves.
3.) Toiletries. You might think this one shouldn't be on the list since you've been packing toiletries your entire life for every trip you've ever gone on, but in a hotel most stuff is provided for you (towels, toilet paper, hand soap, etc.) and you just run down to the front desk if you've forgotten something. In real life this takes a 20 trip to the store. So make sure you have all your essentials (soap, shampoo, conditioner, lotion, toilet paper, toothpaste, floss/mouthwash, q-tips, etc.) ready when you are.
4.) Condiments. I vividly remember moving into my first place excited to make myself a turkey sandwich only to realize I only had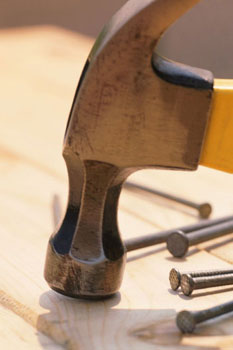 turkey and bread. I ate the sandwich anyway (what can I say, I was poor and hungry!) but from then on I've never moved into a home without making sure there are condiments in the refrigerator.
5.) Handyman gear. Hammers, nails, screws, tape measure and batteries are all things no one thinks about until they already need them. If you live in an apartment that explicitly states that there are no holes allowed in the walls, you'll need to remember to have plenty of wall putty and decals to spruce your place up. Decorating your new place is half the fun of moving in, and delaying it would be a real bummer.
Oh and you might want to bring along a little wine or champagne. It's always nice to have a little glass to celebrate as you sit on the floor unpacking things into your new place.